Leadership
Didem OZYIGIT
Founder & Managing Director
15 years of well-rounded experience in marketing, shipping, international finance, customer relations and trade compliance has placed Didem in prime position to act successfully as Harmonia's Managing Director of International Patients. Being Harmonia's founder doesn't hurt either, as Didem has carried her vision all the way from inception to her current role, where she implements the very things she's envisioned for the company since day one. With that said, it is Didem's advanced interest and skill in leading technologies and patient satisfaction, along with her unending energy for perfecting Harmonia's caring strategy that has elevated the practice above all others.
Having graduated from Instanbul University's Department of Biology and obtained her masters in International Management, Didem's extensive education matches her impressive accolades. Not to mention the fact that she is a licensed Beauty Therapist with a diploma from S.A.C., UK.
Didem credits her way of thinking – observing like a scientist but acting like a businesswoman – in keeping up with the latest trends and technologies in order to make for the best experience possible for each and every one of Harmonia's patients.
---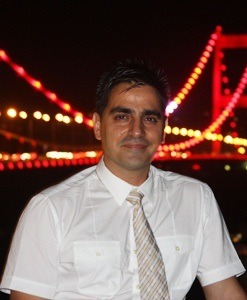 Aesthetic, Plastic & Reconstructive Surgeon
Medical Director
Specializing in both cosmetic and reconstructive plastic surgery, Dr. Turker Ozyigit spends the majority of his time on post-bariatric plastic surgeries, laser rejuvenation techniques, liposuction and body contouring operations. With this in his speacialized field in aesthetic plastic surgery, he has a holistic approach on body aesthetics to combine all classical techniques together with the new trends.
As a member of The International Society of Aesthetic Plastic Surgery and the Turkish Society of Plastic, Reconstructive and Aesthetic surgery, Dr. Ozyigit attracts patients from all over the world, including Turkey, Germany, Switzerland, and France.
The reason so many international patients are willing and eager to work with Dr. Ozyigit? His welcoming attitude and willingness to make proper accommodations for clients earns their trust.
Plus, his push to make international patients as much of a priority as his domestic patients, along with his personal investment in social responsibility programs that allow for reconstructive surgeries to those who don't hold social security have made him the preferred surgeon among many.
Equipped with an excellent educational background – having graduated from the Ataturk University, Faculty of Medicine – Dr. Ozyigit is also widely recognized for his written word, and has released over 50 publications. He believes that continuous learning and research will allow him maintain the best career results possible, which translates into his ability to maintain the best results with his clients as well.
Credentials
Dr. Turker Ozyigit has attended numerous national and international congresses, symposiums, courses and seminars about his profession.
He is also in the Reviewer Board of Aesthetic Plastic Surgery Journal of International Aesthetic Plastic Surgeons.
He has over 50 publications as listed below
9 Articles Published in International Journals
3 Presentations in International Congresses
2 Articles Published in National Journals
38 Presentations in NationalCongresses
Scientific Publications
---
You will need the Adobe Reader to view and print the above documents.